Use fins during your swim training to become faster in the water
Do you want to improve your kick strength, ankle flexibility, body position, and increase your speed in the water? If you're thinking, duh, try adding fins to some of your swimming workouts for your upcoming tri! With the right amount of training and the right tools, you'll be on track to improve your swimming abilities for CapTex Tri in no time.
Why you should use fins
Wearing swim fins increases the amount of resistance your muscles experience as you kick, guaranteeing you'll put your leg muscles to full use. Stronger legs and the additional strength will carry over into normal swimming when you're not wearing your fins.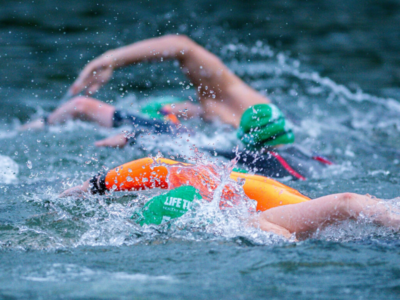 Another benefit of using fins is improved ankle flexibility. This stems from the extra force the fins place on your ankles as you kick. Increased ankle flexibility will result in a more efficient flutter kick through better angles of attack in the water. When you are unable to fully flex your ankles into a streamlined position the ankles remain somewhat bent, catching water instead of propelling the body through it.
Do you have some other new swim equipment? This Rookie Tri blog shows you how to incorporate other swim equipment into your triathlon training.
Technique-focused workout
You'll want to focus on a slow-motion, over-exaggerated flutter kick. During this workout, focus on slowing down the kick cycle and dramatically increase your range of motion. The over-exaggerated technique allows swimmers to more easily tune into ankle flexion and proper body alignment throughout the kick. As a bonus, this drill is also quite taxing on the legs and core – the increased workload of a large kick also makes for a great strength-building exercise.
2 Rounds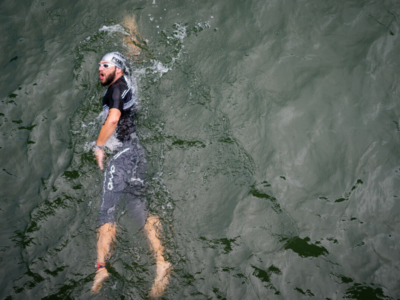 2 x 25 over-exaggerated flutter kick (with kickboard)
4 x 25 freestyle, easy
2 x 25 over-exaggerated flutter kick (no kickboard)
4 x 25 freestyle, mid-level effort
2 x 25 over-exaggerated flutter kick (with kickboard)
4 x 25 freestyle, easy
https://captextri.com/wp-content/uploads/2020/02/swim-faster-with-fins.Capex-Tri.WP.feature.jpg
400
495
CapTex Tri
https://captextri.com/wp-content/uploads/2022/05/AS_CAPTEX_LOGO_MOCK-UP_FULL_COLOR-400x197.png
CapTex Tri
2020-05-12 10:30:17
2020-05-12 11:35:56
Swim Faster with Fins