Benefits to CapTex Tri being USAT-Sanctioned and having a USAT-Certified Race Director
When researching triathlon events, you've probably come across the terms USAT-sanctioned and USAT-Certified Race Director. So what exactly do these terms mean and why should you care about the benefits of a USAT Certified race?
USAT-Sanctioned
USAT is an acronym for USA Triathlon, which is the governing body of the sport of triathlon in the United States. Additionally, since triathlon is a sport featured in the Olympic games, USA Triathlon is part of Team USA. Therefore, they must adhere to the rules and guidelines of the US Olympic and Paralympic Committees. When you see the phrase "This is event is sanctioned by USAT" or "This event is USAT-sanctioned" it means that the event organizer has completed a thorough questionnaire regarding how they plan to conduct the event. They have also received approval from the USA Triathlon Events staff. As a potential participant in a triathlon, the term USAT-sanctioned should give you confidence. You are registering for an event that meets minimum standards for safety and fairness.  
Participant benefits of a USAT-sanctioned event: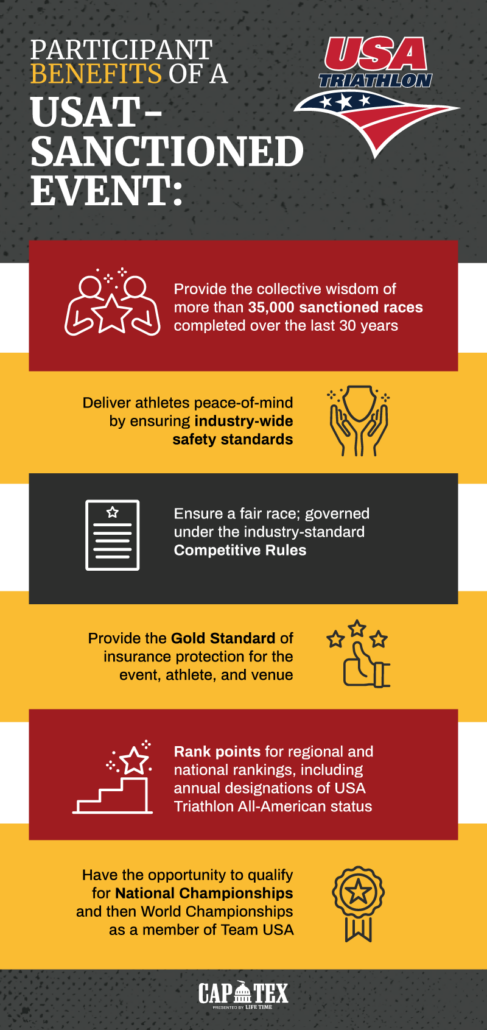 As a participant in a USAT Sanctioned event, you must have a current membership with USA Triathlon.  Annual memberships and one-day memberships (purchased per event) are available. Most adult triathlons in the United States are sanctioned by USA Triathlon. This helps the individual event. It also helps keep the national governing body strong so that it can support race directors, growth of the sport initiatives, and Olympic and Paralympic athletes.
USAT-Certified Race Director
Additionally, USA Triathlon has created a Race Director Certification program that goes above the standard sanctioning process. Race Directors who choose to become certified go through approximately 16 hours of coursework and complete an exam. They are required to recertify every two years and complete a background check through NCSI and take SafeSport training. The recertification and coursework ensures that the race director remains current in their knowledge and engaged in the triathlon community.  There are two levels of Race Director Certifications. Level II is the most difficult to obtain and retain. Only the most qualified race directors reach this level. Dan Carroll of High Five Events was among the first race directors to achieve Level II certification. He has maintained that certification since the program was created in 2007.
Choose USAT Certified for Your Upcoming Tri
So the next time that you register for a triathlon like CapTex Tri, look to see if the event has the benefits of being USA-sanctioned and if it is produced by a Certified Race Director. That way you'll know you're safe in good hands and you're in for an awesome experience!
https://captextri.com/wp-content/uploads/2020/06/feature_CapTex-2020-USAT-Certified-What-that-Means-Blog_1_495x400_052220.png
400
495
CapTex Tri
https://captextri.com/wp-content/uploads/2022/05/AS_CAPTEX_LOGO_MOCK-UP_FULL_COLOR-400x197.png
CapTex Tri
2020-06-23 02:00:53
2020-06-22 11:44:54
USAT-Certified: Why It Matters and How It Benefits You