Race CapTex Tri from anywhere in the world!
We know how hard all of our participants have trained for the CapTex Tri presented by Life Time Fitness to not be able to take to the course this coming Memorial Day Weekend.  We think all your efforts still deserve some acknowledgment and praise. It's time to finish what you started and show off your skills by completing the Free 2020 Virtual CapTex Tri. This event is open to the public so be sure to challenge your friends and family to join you!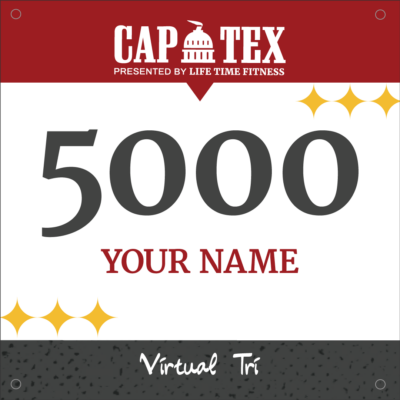 Completing a virtual triathlon is great motivation to accomplish your fitness goals and commit to healthy living habits! And, besides feeling good about yourself, you will also receive a downloadable personalized bib, finisher certificate, and digital finisher medal.
Participants will have the option to complete either the sprint or olympic distance events. If you do not have access to a place to swim you can complete the event as a duathlon. Participants will track their distance and time using their watch or a smartphone app.
Sprint Tri: 750 meter swim, 12.3 mile bike, 3.1 mile run
Sprint Duathlon: 2 mile run, 12.3 mile bike, 3.1 mile run
Olympic Tri: 1500 meter swim, 24.3 mile bike, 6.2 mile run
Olympic Duathlon: 4 mile run, 24.3 mile bike, 6.2 mile run
Registration is open for the Free CapTex Tri from April 29th through Monday, May 25th. You can submit your results through May 29th, the Friday after registration closes. The official results page with finisher certificates will be updated on April 28th, May 12th, and May 29th.
Want to take the challenge to the next level? Complete the Rookie Tri Virtual and the CapTex Virtual Triathlons by their respective dates and you will earn this limited edition Back-t0-Back digital finisher medal! Registration is open for the Free 2020 Virtual Rookie Triathlon from through May 3rd.
How to Participate
With this virtual tri, you can do it all at once or can complete each segment of the triathlon on your own schedule. For example, you can do part of the swim on Monday, part of the run on Wednesday and part of the bike on Friday. You can do each part in a location and time that's convenient for you. Even if you weren't planning on joining us for CapTex Tri, now is the chance to put yourself to the test at the pace you're comfortable with.
Register for the event on EventDog.com.
Follow the link in the confirmation email to personalize & download your bib.
Document your journey with a before and after photo. Optional but totally encouraged!
Swim (Run), Bike & Run!
Keep track of your time with your watch or a smartphone app like MapMyFitness. Complete your distances indoors or outdoors during the time frame.
Post your results before May 29, 2020, to the link in your confirmation email.
Connect with us on Social! Tag your photos on Instagram & Twitter with #RookieTriVirtual
https://captextri.com/wp-content/uploads/2020/04/Virtual-Tri-Blog-Feature-Image-495x400-1.png
400
496
CapTex Tri
https://captextri.com/wp-content/uploads/2022/05/AS_CAPTEX_LOGO_MOCK-UP_FULL_COLOR-400x197.png
CapTex Tri
2020-04-07 19:43:12
2020-04-28 16:16:59
Austin Premier Virtual Triathlon!