Leave no room for surprises during your upcoming tri with these essential race day skills you need to know
Despite all the planning and prepping to make the morning of your tri go perfectly, we all know that some things are out of our control. Expected the unexpected and prepare yourself by mastering these essential race day skills to handle whatever comes your way on race day.
How to Fix a Dropped Chain

Get off the bike and steady it in an upright position against something sturdy. To add slack to the chain, push the rear derailleur toward the pedal (forward or inward), and then use your other hand to free the chain from the chainrings or pedals. Line the chain back up with a chainring and cassette to put the chain back in place. Lastly, lift the rear of your bike a few inches of the ground and give the pedals a few turns to allow the chain to find its gear. This seems insignificant, but it's an important step to keep your chain from more wear and tear throughout the rest of your ride.
How to Ride in the Rain
Check the weather on race morning to see if you should be prepared to ride in the rain. Throughout the course, avoid standing water. You never know what could be underneath a puddle, and you don't want to risk a flat tire in wet conditions. Also, be on the lookout for rainbow-colored oil patches to avoid slipping. Stay within your comfort zone, and take your time and be cautious around corners to prevent losing control. Last but not least, bring some protection for your eyes! Hopefully, you do this when out for any ride, but you will be glad you did in the case of riding in the rain.
How to Ride While Taking a Drink
You're bound to get thirsty during the bike portion, so be prepared to ride with one hand during a race. Practice makes perfect. During your training, practice this race day skill by removing one hand at a time to build up your confidence. Start with shorter distances, and before you know it you'll be pro at riding with one hand. This will allow you to eat, drink and signal to other riders while making your way to the finish line.
How to Sight in the Water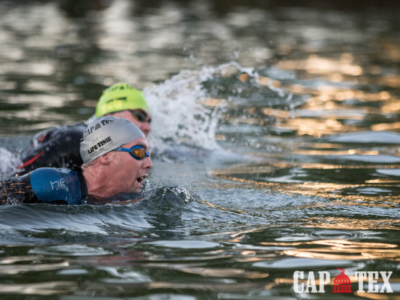 To avoid swimming a further distance during your tri, sighting is an essential race day skill you should practice before an open-water swim. You need to look where you're going every few strokes to make sure you are staying within the buoys. The best method of sighting is to incorporate glancing forward before you go to take a breath. It is recommended to sight every 2 – 3 strokes, but in order to find what works best for you, you will just have to practice. Pro tip: Look at the swim course before-hand to see if the course goes clockwise or counter-clockwise, then you'll know to stay on the right or left side of the buoys.
How to Look Over Your Shoulder on the Bike
Once you perfect riding with one hand, you'll be ready to look over your shoulder during your ride. It's important to be aware of your surroundings during a ride to keep yourself, and others around you safe. It's all about shifting your weight correctly and keeping your knees, pelvis, and front-wheel facing forward. We advise performing this drill in a parking lot, or on an empty street to make sure you can still ride straight while turned around.
How to Change a Flat
Follow these 10 simple steps to fix a flat, and you'll be back in the race in no time.
1. Pull over and find a safe place off the road to change tire
2. Remove the wheel from the bike.
3. Remove the tire with levers from the wheel
4. Check your tire for large punctures or sharp items
5. Check the rim of the wheel for anything that might have punctured through the rim tape
6. Pop one side of the tire back over the rim of the wheel
7. Put the new tube back inside tire
8. Push the free tire wall back onto the rim
9. Inflate the new tube.
10. Put the wheel back on the bike.
Once you've conquered these essential race day skills you need to know for your upcoming tri, there will be nothing in your way as you head for the finish line!
https://captextri.com/wp-content/uploads/2020/04/6-skills-to-master-before-race-day.WP.feature.jpg
400
495
CapTex Tri
https://captextri.com/wp-content/uploads/2022/05/AS_CAPTEX_LOGO_MOCK-UP_FULL_COLOR-400x197.png
CapTex Tri
2020-02-13 15:48:02
2020-04-22 14:04:29
Essential Race Day Skills You Need to Know for Your Upcoming Tri