Every beginner triathlete needs these 6 items before they can train
You've decided to start training for your first triathlon, congrats! Now what? Before you get started you'll need some specific gear for all phases of training. This 6-item checklist is a great start for every beginner triathlete! It's got you covered from the swim to the bike to the run. You might even have some of these items already. If that's the case, we've added a few more recommendations at the end. Below are the 6 items every beginner triathlete must-have. Pro tip: pair the items with these 8 habits to successfully train and crush it on race day! 
Bike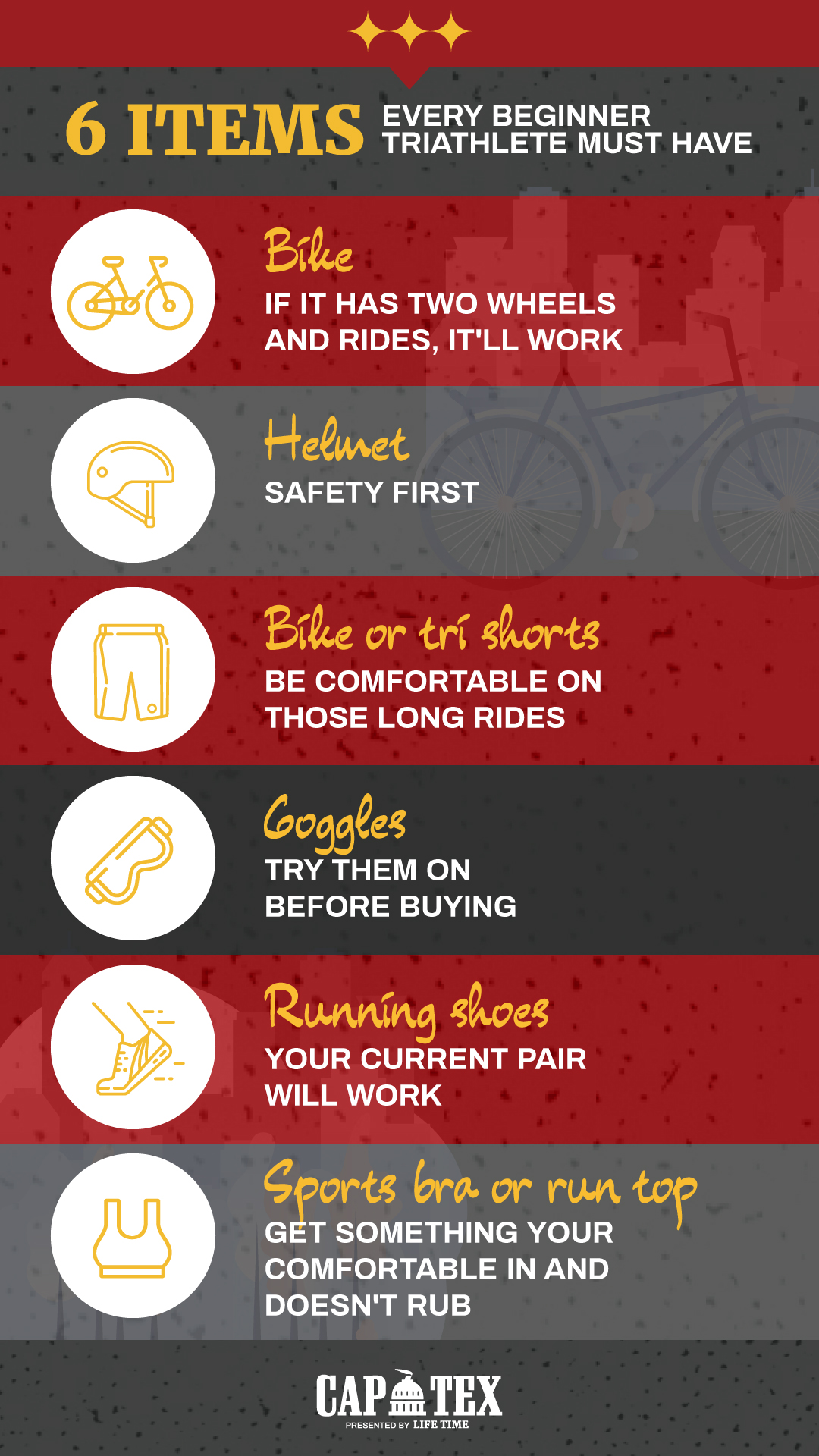 Any bike. It can be anything from your uncle's old bike that has been in the garage or the mountain bike you take out riding with your kids. Be sure that the bike is in good repair by taking it to a local shop. If the bike is really old or in disrepair, you may spend just as much on fixing it as you will buying a beginner bike. Pro tip: a road bike with gears will make your training a lot more comfortable. You will be able to go further with less effort and have more "in the tank" when you head out for the run. Remember to practice these 5 bike handling skills.
Helmet
Helmets should be replaced every 5-8 years and definitely after any crash — no matter how small. Helmets provide the same safety level at any price tag so you don't need anything expensive. The higher-end helmets are equipped with more ventilation and aerodynamics. Some helmets are specifically sized so make sure and check when you purchase. A loose-fitting helmet is not safe. Pro tip: follow these easy steps to ensure your helmet properly fits.
Bike or tri shorts
Really you can wear what you want, just remember that transition is open and there is nowhere to change in private. If you want to be comfortable while training and racing get a nice pair of athletic shorts. These can really be anything but cotton as cotton will not wick away sweat and can lead to chaffing. Ouch! A basic tri short with a little bit of padding will make your bike-riding experience much more enjoyable. The best part is that these shorts will last long after your triathlon debut. They are perfect for cross-training, cycle classes, and even going for runs.
Goggles
There is no perfect goggle since everyone's face is shaped a little differently. Visit a local swim shop and try on a few models to find what works for you. Leaky goggles will derail your swim and can make swimming a lot more difficult. Especially if you are having to stop and constantly adjust for goggles. Don't skimp and just buy the cheapest ones at the store. Once you have tested them out a few times, we suggest buying a second pair in a different tint so that you have something for all conditions. Here's some more advice to follow when searching for your goggles.
Running shoes
If they are comfortable, they are good to go. Even if they are just the shoes you got because you liked the way they looked. Have some shoes that aren't comfortable? Well, you can still run in those — you will just be, well uncomfortable at the end of your run.
Sports bra
Ladies, even if you decide to use your swimsuit for your first triathlon you are going to want to wear a good sports bra underneath. You will want something you are comfortable running in. If you have some areas that rub, like under the armpits, you can put some Vaseline or Body Glide on in the morning to help with chaffing.
Beginner triathlete extras
Recommended
Flat kit – you'll want this if you get a flat

Hat/visor – protect yourself from the sun

Water bottle for the bike – stay hydrated

Bright towel – find your spot easier in transition

Sunscreen – don't get burnt 

Race belt – carry your nutrition and your bib
Optional
Socks – keep your feet comfortable

Bike shoes with clip-in pedals – make sure you practice first

Sports watch – track your time

Sunglasses – protect from debris on your ride

Transition bag – carry all your stuff

Wetsuit – can be expensive, but could help in the water
https://captextri.com/wp-content/uploads/2020/09/842702_CapTex-2020-6-Items-Every-Beginner-Triathlete-Must-Have_495x400_092920.jpg
400
495
CapTex Tri
https://captextri.com/wp-content/uploads/2022/05/AS_CAPTEX_LOGO_MOCK-UP_FULL_COLOR-400x197.png
CapTex Tri
2020-10-02 08:57:34
2020-10-05 10:05:05
6 Items Every Beginner Triathlete Must Have