Triathlon Bikes vs. Road Bikes: What's the Difference?
When it comes to triathlon, a bike is, well, a necessity. How are you supposed to know which bike is best suited for you if you're new to triathlon or limited on options? In this blog, we're going to talk about two types of bikes: road bikes and triathlon bikes. Keep reading to understand some key differences between triathlon bikes and road bikes so you can decide which fits your style best for your triathlon journey.
How They're Different
The most notable difference is the design, or geometry of the frame of each bike. Triathlon bikes have a steeper angle of the seat. Seats on a road bike are positioned at, on average, 78 degrees while the angle on a triathlon bike is closer to 72 degrees. The steeper angle allows the user to travel at a faster rate because you can bend your body down lower which reduces wind resistance. Another huge difference is that a triathlon bike includes aerobars instead of regular handlebars and many models have specially shaped frame tubing and special wheels. These design features are intended to minimize drag and increase speed which is important in triathlon racing.
Triathlon Bikes
Tri bikes allow you to get into a more aerodynamic position by lowering your upper body and bringing your arms in-line with your torso. This is a result of the tilt of the seat in combination with aero bars that cause the cycler to lay lower on the bike with elbows rested. The goal here is to be in the optimal position for a smoother, faster ride.  Unlike other handlebar positions, aero bars serve as both handgrips as well as armrests, allowing you to significantly reduce the pressure on your wrists and hands throughout a race or riding for an extended amount of time.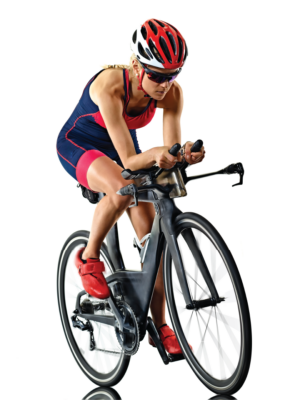 Key Traits of a Tri Bike
has aerobars
more aggressive frame geometry
can be more expensive
better for speed
more aerodynamic
Road Bikes
Road bikes are great when aerodynamics are not the top priority. These bikes are typically easy to maneuver during longer rides. Road bike frames are slim and also come with thin tires for riding on the road. The handles on road bikes offer different hand positions. Because of this, most people find road bikes to be more comfortable because you can alter your riding position as needed. For beginner triathletes, we recommended trying a road bike before a triathlon bike.
Key Traits of a Road Bike
more versatile
less expensive
lightweight
can add clip-on aero bars
easy to customize
Now it's Time to Make a Decision! Which Bike Will You Choose?
Now that you know the key differences between the types of bikes, take a moment to weigh your options before deciding which bike is better suited for your riding needs. Keep in mind: comfort is key, but you don't want to compromise speed for comfort or vice versa. It's all about finding a bike with a balance that works best for your body and your cycling needs. Whichever bike you choose, either will do for the day of your big race. Now, all there's left to do is choose your bike, grab your shades, and start logging those miles!
Which type of bike do you prefer? Let us know on Facebook or Twitter and tell us what you decide to name your new set of wheels!
https://captextri.com/wp-content/uploads/2020/06/feature_CapTex-2020-Triathlon-vs-Road-Bike-What-is-the-Difference_495x400_1_062320.png
400
495
CapTex Tri
https://captextri.com/wp-content/uploads/2022/05/AS_CAPTEX_LOGO_MOCK-UP_FULL_COLOR-400x197.png
CapTex Tri
2020-07-08 10:43:44
2020-07-08 10:43:44
How to Know the Difference Between Triathlon and Road Bikes